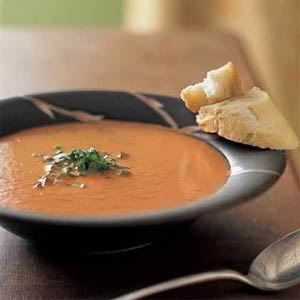 (Photo Credit: photobucket.com)
I have never been a big fan of tomato soup. The only thing I liked about it was dipping my grilled cheese sandwich in it. And then I would just throw the rest down my throat because I had to clean my plate. (or bowl:) However! This stuff is the best tomato soup I have ever tasted. Creamy, a little bit of chunky-ness, and full of flavor. Now, I make this just for the soup's sake; I don't even need grilled cheese! The whipping cream makes it so rich and yummy, but I've made it with evaporated milk before when I didn't have any whipping cream in the fridge. Here she is; love her as if she were your own:
Ingredients
1 jar spaghetti sauce (29 0z.) - I know this sounds dumb, but I use the mushroom sauce from Aldi. perfect amount of seasonings. If you don't have that nearby, just pick a sauce that's similar with a good blend of seasonings.
1 cup whipping cream
1 tsp brown sugar
salt and pepper to taste
Mix and heat over low to medium heat. Don't boil. We love this with homemade bread. Actually, there's an herb bread (Garlic Herb Braid) we absolutely loooove it with because the flavors go so well together. I'll share that bread recipe later on... In the meantime, serve with bread, grilled cheese sandwiches, or by itself.
By the way, I suppose I should add this. I made this soup for my mother-in-law who doesn't like tomato soup. And she liked it. Score. :)